House Mountain Camp
The House Mountain camp is located in Llano county, Texas. It is 1400 acres with the second largest granite dome mountain in Texas. Whitetail deer, hogs, and Aoudad sheep frequent this property. A bunk house with full kitchen can comfortably accommodate 10 hunters with a full bathroom and shower facilities.
Camp Rules
1. Welcome to Moseley Camp! Iíve provided you with a first class facility. I request your cooperation in taking care of it.
2. No Smoking is allowed in the cabin!
3. Please put cigarette butts in butt cans, not on ground!
4. Please leave cabins as clean & orderly as you found them! Clean up as you go, especially cooking/kitchen areas and restroom.
5. Place aluminum in containers provided for such.
6. No trash of any type is to be left behind in pastures, in or around stands, etc. Please close windows on box stands when departing them & remove/bring ALL TRASH back with you and dispose of properly.
7. Take all unwanted deer parts to the dump & thoroughly wash down deer cleaning areas.
8. All game MUST BE properly tagged. Please report all kills to me daily.
9. Please do NOT turn A/C thermostats below 72 degrees. If set lower than this temp, the units will freeze & cease to cool.
10. Please do NOT remove anything (chairs, cooking utensils, etc.) from the cabins. If itís not your property, leave it.
11. Absolutely NO LOADED GUNS in the camp area. Unload before you return to camp, and make absolutely sure that bolts or breechblocks on all weapons are OPEN at ALL TIMES. Safety FIRST!
12. Please DO NOT make any changes to deer feeder timer settings!
13. Please make sure that you read, understand, and FOLLOW these rules & policies. I have ZERO TOLERANCE for anyone not following them to the letter! If you donít understand something, feel free to ask. Failure to comply with these rules will result in you & your party NOT being welcome to hunt here in the future! Thank you for your attention and cooperation.
Pictures of House Mountain Camp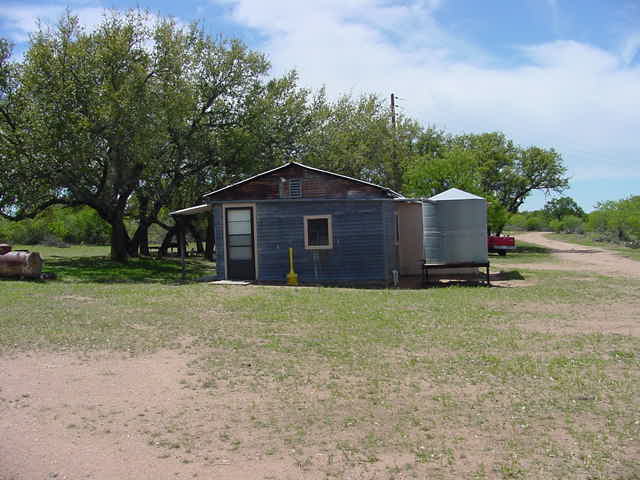 This is the first view of the camp you see as you drive in. No, its not leaning, the ground slopes...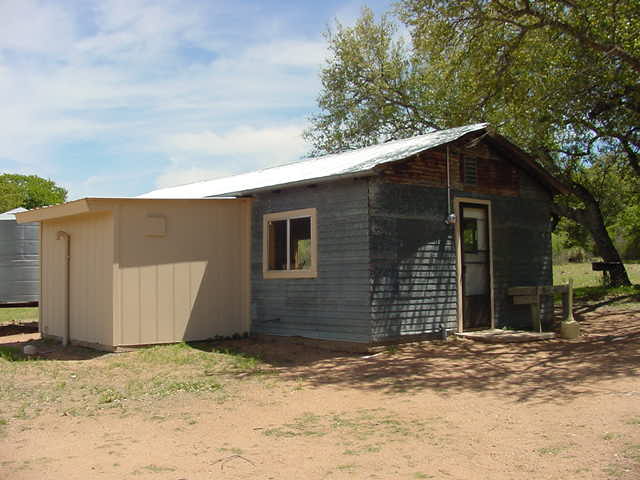 This is the main entrance to the camp building, and the end you can park at.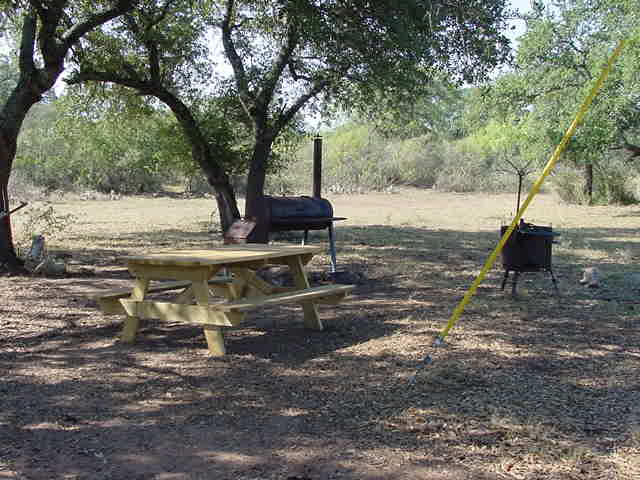 Social gathering area and outdoor cooking. Great place to set around a campfire with friends and a few adult beverages and swap lies about the day's hunt or ones from years gone by.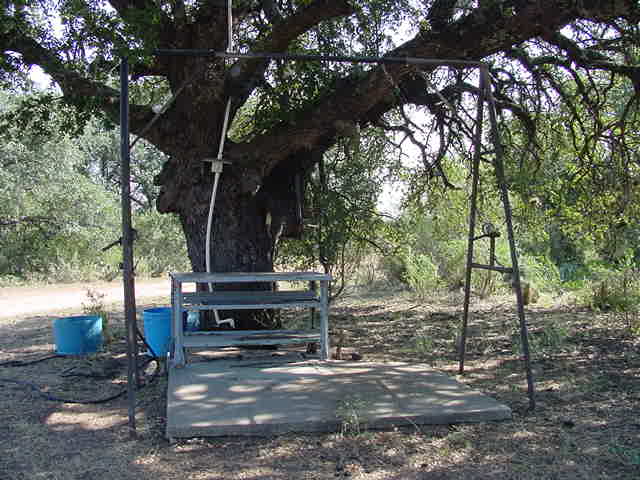 Cleaning area at House Mountain, no standing in mud or blood. Lighted, with running water, winches, and cleaning table.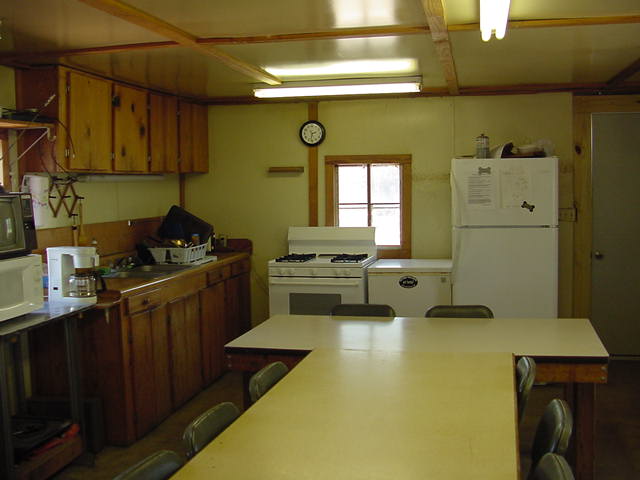 The kitchen end of the camp building, fully equipped with fridge, stove, microwave, coffee machine, pots, pans, and utensils for your cooking needs. Just bring groceries and somebody who knows how to cook.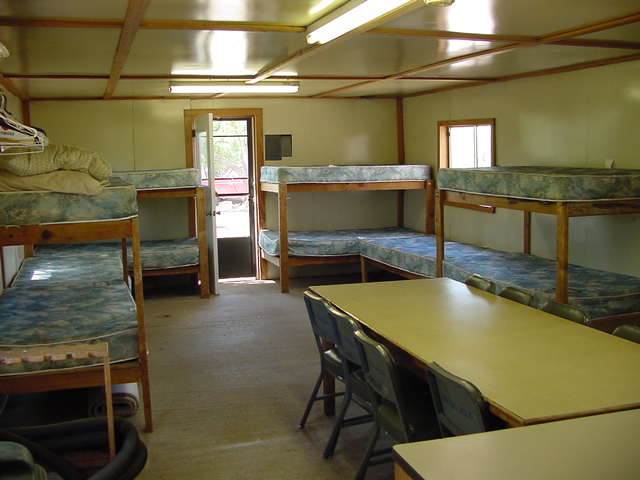 The sleeping end of the camp building, 10 bunks no waiting. Just bring your own sleeping bag or linens and a pillow.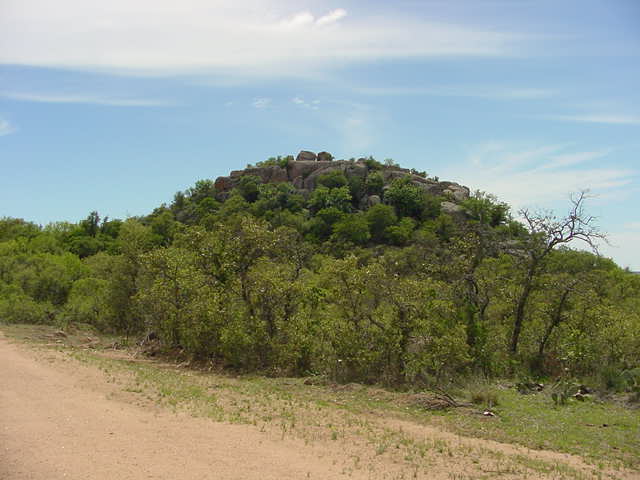 Little Mountain, next to House Mountain.
Box blind and feeder at House Mountain.
Another box blind and feeder setup at House Mountain.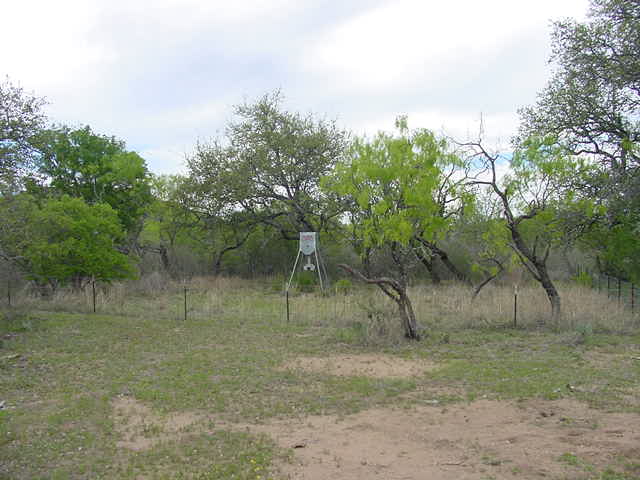 Protein Feeders are out year round for the health of the herd.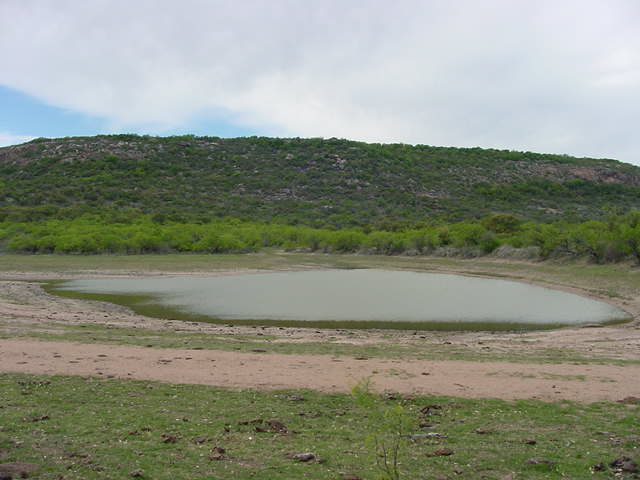 One of three big stock tanks at House Mountain, a little low at the time of the picture, but the tanks are a great place to see the wildlife.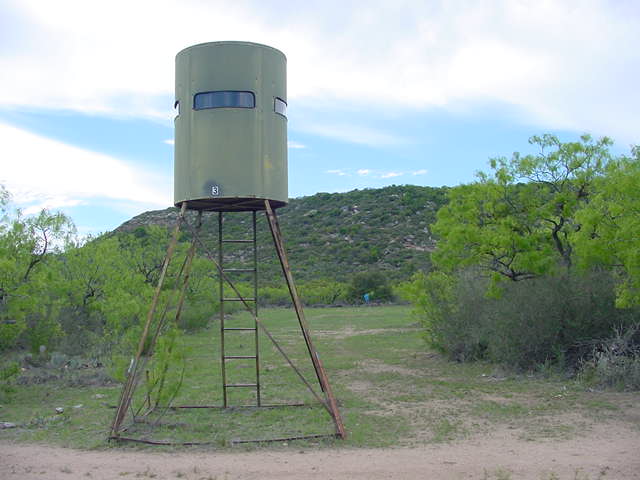 Tower blind and feeder at House Mountain.